Asus ROG GL753 Specifications and Performance Analysis
The Asus ROG GL753 has a 17-inch Full HD IPS-Type display with Nvidia's GTX 1050 Ti GPU for $1099. Surprisingly, this model is the first product of Asus that contains an RGB-Backlit keyboard with colors.
The laptop is named ROG (Republic of Gamers) and is primarily designed for professional gamers since these laptops are enabled with dedicated processors and Graphics Cards.
Meanwhile, in compression of Asus ROG Strix GL7543, a few other devices with the same configuration are also available in the market. 
Specs of Asus ROG GL753

Operating System

Windows 10 Home (64-bit)

Screen

17.3-inch, 1,920×1,080 display

Resolution

1920 x 1080

Weight

2.80 kg (6.2 lbs)

Refresh Rate

60Hz

Battery

48Wh, 4-cell,

Body Material

Plastic / Polycarbonate, Aluminum (Aluminum, Plastic)

Memory

up to 32GB

Storage

up to 4000GB SSD + up to 2000GB HD

USB-C port

yes

Processor 

2.8GHz Intel Core i7-7700HQ

Graphic Processor

4GB Nvidia GeForce GTX 1050Ti

Dimensions

415 x 273 x 30 mm (16.34″ x 10.75″ x 1.18″)

Connectivity

Bluetooth 4.0, Wi-Fi 802.11ac

Camera

720p

HD webcam

Price

$1,099 to start, $1,299
Performance Analysis of Asus ROG GL753:
Processor:
The processor of Asus GL753 upgraded with 7th generation 2.8-GHz Intel Core i7-7700HQ, 16 GB RAM, and 256GB SSD. Hence, you can play GTA Grand Theft Auto with causal settings and 25 chrome tabs without interruption. However, you can be in trouble if you want to play high-range games with heavy settings. Sometimes, the frame rate decreases slightly during speedy gaming visuals, like running or car racing. 
The Asus GL753 contains a Nvidia GeForce GTX 1050 Ti GPU with 4GB of VRAM that performs smoothly. Also, you can consider Asus FX503 as this device does not have ROG with its name but is recommended for low and medium-range games.
Design: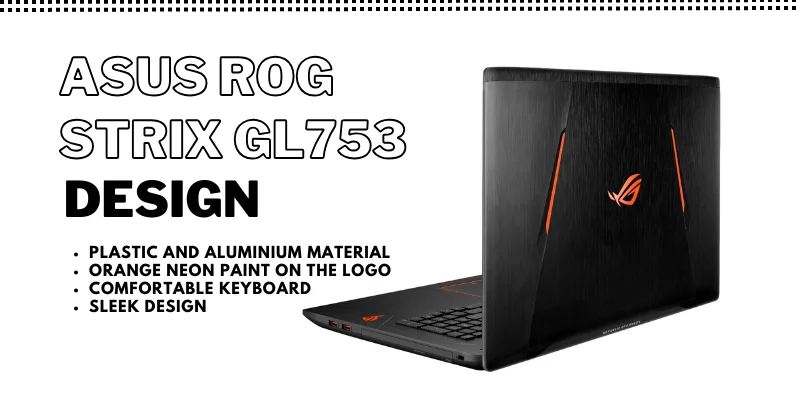 The Asus ROG GL753 design combines Plastic and Aluminium materials. However, Asus used orange Neon Paint over the logo, while these premium machines used glowing lights. 
It weighs around 3 kg, which is heavier than its competitors. However, the weight is evenly distributed. Hence, it will only bother a little the holder of the laptop. 
Overall, it is a well-designed device. It gives balanced styles and functionality at the same time. 
Display:
The 173.3-inch display of Asus ROG GL753 has 1080 resolution, an island-style keyboard, and a numeric pad. Although it provides clean and sharp colors during heavy games, it needs improvement compared to other laptops as it reproduces 124 percent sRGB colors while the desktop's average is 128 sRGB.
The refresh rate of Asus ROG GL753 is 60Hz. However, if you compare this device with competitors, you will not find it suitable due to its low refresh rate.
Furthermore, it has a pretty average responsive time, which is 28ms. Hence, you find some speedy visuals and a little blur. Therefore, you can prefer ASUS ROG Strix Scar 18 for a better display. 
Through Asus' Splendid technology, you can maintain the display colours, contras, and saturations according to the requirement. 
Keyboard
:
Prominent Features
Travel Distance: 2.1mm
Wider Space Bar
Customisable RGB Lights
The Asus ROG GL753 Keyboard is designed with customisable, elegant RGB lights. This model has a broader space bar compared to the previous one, which helps maintain the thumb's placement easily. But the travel distance is 2.1mm, higher than the Asus Rog GL704. However, the short travel distance is considered more responsive than high.
Surprisingly, it has in-built anti-ghosting technology with a 30-key rollover. Therefore, it lets you press multiple keys simultaneously and receive the same response during long, intense gaming sessions. Hence, you can press multiple keys simultaneously and enjoy its quick results. 
The touchpad has a 4.1 x 2.8-inch area. However, this is a bit uncomfortable, but the cursor performs fine. Also, it gives exact results of any place you click.
In short, it provides a comfortable typing experience.
Battery
:
The battery life of Asus GL753 has 5 hours of backup, but this duration also depends on usage. If you play high-range games for long hours, the battery might not work, but you can easily rely on battery backup for browsing and casual use. Also, machines equipped with demanding CPUs and GPUs consume more battery. Hence, it is considered a minor drawback.
Speakers:
The Asus ROG GL753 Speakers are designed with powerful internal elements. You experience the sound just like a little conference room with clean vocals. 
Webcam:
The Asus ROG GL753 Webcam needs the finest improvement because 720p is insufficient for this configuration laptop. It gives a blurry and dark result, which is unsuitable for live gaming sessions.
Meanwhile, for better webcam results, you can prefer the ASUS ROG Zephyrus M16 2023 model since it has 1080p FHD camera results.
Ports:
The left and right side of  Asus ROG GL753 Ports are the following:
2 USB 3.0 ports

1 USB 3.1 type C port

1 Ethernet port

1 Ethernet port

1 mini DisplayPort

1 SD card reader

1 HDMI port
Pros and Cons of Asus Rog Strix GL753:
| | |
| --- | --- |
| Pros | Cons |
| Customizable Stylish RGB back-lit keyboard | 2.1 Key Travel Distance |
| Updated Speakers | 60Hz Refresh Rate relatively low |
| 30-key rollover | Average Webcam |
FAQS:
Is Asus Rog GL753 a good recommendation for gaming?
Yes, Asus GL753 has an updated processor and GPU compared to the past and is considered a budget-friendly device. However, better options are also available if one can pay extra. 
What the Processor Assus Rog GL503 has been used?
However, it uses different processors according to the preferences. But the most common and demanding one is the 2.8GHz Intel Core i7-7700HQ.
How much RAM has been enabled in Asus ROG GL753?
The RAM depends on the requirement. However, it offers 8GB and 16GB RAM at the time of purchase. Meanwhile, it has up to 32 GB memory capacity.
Final Verdict:
The Asus ROG GL753 Gaming laptop is a comfortable gaming device with an RGB black-lit customizable keyboard. Besides the drawback of battery and webcam, it gives a smooth performance. However, the Average frame rate went down during speedy visuals, but overall, the display contains all the necessary elements that a gaming laptop requires. In contrast, you must consider other Asus ROG series models to play high-range and more demanding games.