ASUS ROG Zephyrus M16 (2023) Gaming Laptop Review, Specs, and Performance Analysis
The Asus Rog Zephyrus M16 comes with impressive upgrades. The performance has been improved by using the latest Intel and Nvidia chips. Therefore, the system gives a remarkable performance. Also, the Display has been upgraded with a 16-inch Mini LED panel and a 240hz refresh rate. Meanwhile, the price is $1,949.99 (with 16GB), considered a high price but reasonable compared to other available gaming laptops.  
ASUS Zephyrus M16 (2023) Review – New & Improved! by Jarrod'sTech
Specs

Operating System

Windows 11 Home (64bit)

Screen

16 inch

Weight

2.10kg

Battery

90WHrs

Charger
280W

Power Adaptor Type-C

Memory
32GB

DDR5-4800 SO-DIMM x 2

Storage
2TB

HDD

USB-C port

Yes

Processor 
13th

Gen Intel

Core i9

-13900H Processor 2.6 GHz

Graphic Processor

NVIDIA GeForce RTX 4070 Laptop GPU-8GB GDDR6

Dimensions

3.98 x 9.69 x 0.78 inches

Audio

2x 2W speakers with Smart AMP technology

2x 2W tweeter, Array Microphone

Connectivity

Wi-Fi 6E(802.11ax), Bluetooth 5.3

Refresh Rate

240Hz 

Camera

1080p FHD IF camera

Price

$1,949.99
Ports Available:
1x 3.5mm Combo Audio Jack

1x HDMI 2.1 FRL

2x USB 3.2 Gen 2 Type-A

1x USB 3.2 Gen 2 Type-C support DisplayPort™ / power delivery

1x Thunderbolt™ 4 support DisplayPort™ / power delivery
Performance Analysis of Asus Rog Zephyrus M16:
Design:
The Asus Rog Zephyrus M16 body resembles its previous model. However, this time, Asus updated some exterior features. Hence, it enhances the overall look and functionality of the Laptop. Meanwhile, for a 17-inch display, you can prefer the Asus ROG GL753.
The Laptop's frame has been reinforced, and a noisy element like the previous model has been eliminated. Therefore, it allows its users to grab this device without hesitation or fear. In short, the smart design and thermal management have been revised to make it stand out among other gaming laptops.
Keyboard and Trackpad:
The Asus Rog Zephyrus M16 Keyboard is based on a Chiclet design. Therefore, it provides a responsive and quick typing experience. The keyboard is placed in a way that it raises from the ground. Therefore, it remains cool to offer a preferable typing experience. However, keys will heat up during long and heavy game sessions.
Sadly, the Play and pause keys have been removed from this device. Since the speaker is near the keyboard, Asus eliminated NumPad in this device. Unfortunately, the arrow key size is not comfortable. Therefore, these are noticeable aspects for gamers.
Furthermore, the keyboard and touchpad are both equipped with RGB lights. Eventually, it enhances the look during gaming sessions and gives a pleasant and vibrant vibe for casual use.
The keyboard has the following features as well:
Backlit Chiclet Keyboard: Makes keyboard Cleaning process easy.
N-key support: Focus on how many keys have been pressed simultaneously.
1.7mm travel distance: Travel distance means response time. Hence, a shorter distance leads to a faster response than a long distance. Compared to the Asus FX503, the Asus M16 has a lesser distance.
Display: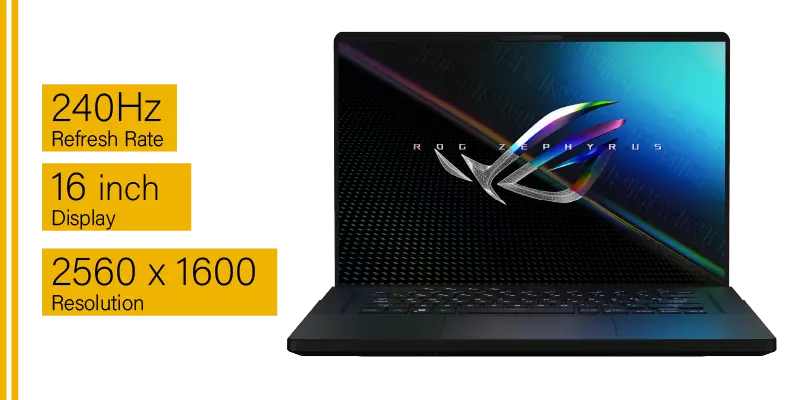 The 16-inch Display of the Asus Rog Zephyrus M16 makes it unique and different from other gaming laptops. Also, it provides a 2560 x 1600 screen resolution. In addition, it has a mini-LED with a 3ms response time, 240Hz refresh rate, and HDR. Surprisingly, the Asus Rog M16 Display is enabled with Nvidia G-Sync technology. Therefore, it gives excellent graphics during long gaming sessions. In contrast, if you prefer a larger screen, then ASUS ROG Strix Scar 18 18-inch display is reliable.
Battery life:
The Asus ROG Zephyrus M16 Battery has 90Whr. However, it is above average but needs to be improved for the handsome battery backup for games. However, it can last for six hours, but this time zone is also based on usage. For Example, it works smoothly for browsing or low-range gaming.
In contrast, heavy games consume more battery. Eventually, you have to run for power for efficient performance.
Audio:
The Asus Rog Zephyrus M16 audio system has been upgraded. Therefore, it makes the gaming experience unforgettable. This time, the audio system has been powered by Dolby Atmos, Smart Amp Tech, and a 2W dual-force woofer. Now, you will experience crystal-clear sound. Surprisingly, the quality will remain the same whether you play with high or low volumes. Hence, this feature makes it a prominent choice for gaming and music applications.
Furthermore, the Asus Rog M16 Microphone has exceptional quality. Undoubtedly, it can efficiently eliminate all background noise during live gaming streaming.
CPU performance:
Compared to the previous generation, the Asus ROG Zephyrus M16 CPU performance is relatively fast and satisfying. Meanwhile, it combines six performance cores and eight efficiency cores to provide effective performance during long gaming sessions.
Furthermore, To ensure a smooth gaming experience, Asus enabled Nvidia RTX 4070 with 8GB of GDDR6 memory.
Also, the graphic card works at the speed of 2030MHz while maintaining the 140-watt power consumption. Surprisingly, if these features differ from your requirements, you can upgrade them quickly. For Example, you can upgrade the RAM up to 64Gb. You can also prefer other Asus Rog SeriesGaming Laptops for more features.
In short, the dedicated graphics card, powerful processor, and storage capacity make it capable of playing high-range games.
Price Comparison:
The Price of the Asus ROG Zephyrus M16 is relatively high compared to other laptops. For a medium-range gaming laptop, the Asus Rog Strix Scar ii GL704 is available at a relatively lower price than the Asus M16.
Since the Asus ROG M16 offers powerful specifications and you can play high-rage games, it has a higher price of $1949. Meanwhile, the cost depends on individual preferences as well. 
What's in the box?
ROG backpack

ROG Fusion II 300

ROG Gladius III Mouse P514

TYPE-C Charging adapter
Pros and Cons of ASUS Zephyrus M16:
| | |
| --- | --- |
| Pros | Cons |
| Improved appearance and overall look compared to previous generations. | |
| | Overheat during long gaming sessions |
| | |
FAQs:
What are the specs of the ASUS ROG M16?
The Asus Rog Zephyrus M16 has a 13th Gen Intel Core i9-13900H Processor 2.6 GHz, up to 64GB Memory, 2TB Storage, mini-LED with a 3ms response time, 240Hz refresh rate, and HDR.
How many hours long is the ASUS ROG Zephyrus M16 Battery?
Asus Rog Zephyrus M16 90WHrs Battery. Surprisingly, it lasts for 6 hours but depends on usage as well. 
Does the Asus Rog Zephyrus M16 have a number pad on the keyboard?
No, The Asus Rog Zephyrus M16 has no num pad with a keyboard because the speakers have been placed near the keyboard.
Is the RAM of the Asus Rog Zephyrus M16 upgradable?
Yes, You can easily upgrade the RAM up to 64GB.
What is the weight of the ASUS ROG Zephyrus M16?
The ASUS ROG M16 weighs approximately 2.1 kilograms.
Final Verdict:
The Asus Rog Zephyrus M16 is a preferable gaming laptop because of its Hardware, design, Display, visuals, audio, and performance. It has an exceptional capacity for CPU-intensive tasks, making it a reasonable gaming laptop compared to others. While the color theme could be more clean and elegant. Overall, Battery backup needs to be improved for long gaming sessions. Despite its high price and average battery life, it can be counted as a worthy gaming laptop.