Apple Watch Series 9 Review: Analysing Performance and "Double Tap" Gesture
The Apple Watch Series 9 is the first carbon-neutral product by Apple. It is more powerful compared to the previous generations. Surprisingly, It is enabled with the New S9 SiP, Magical "Double Tap" Gesture, Quick Siri response, the ability to read and access log Health data, and much more. Therefore, it falls under the premium Smartwatch of Apple. Meanwhile, these watches have been available in the market since September 22, 2023.
Introducing Apple Watch Series 9 | Apple by Apple 
Specs of Apple Watch Series 9

Display Screen

41mm and 45mm

Color

Prink, Silver, and Midnight

Battery

18 Hours

Charger

USB C

Charging Time

80% in 45 Minutes

Storage

64GB

Water Resistant

WR50 

Connectivity

Bluetooth 5.3

Price

$399 to $429

Release Date

September 22, 2023
Pros and Cons of Apple Watch Series 9
| | |
| --- | --- |
| Pros | Cons |
| Brighten 2000 Nit Display. | Identical to the previous model. |
| | No New Health-related feature. |
| Unique Double Tap Feature | |
Performance Analysis:
Features and software:
Apple has not introduced any new health-related feature in the SmartWatch series nine. Also, the heart rate, Oxygen, altimeter, ECG, and Skin temperature sensors are the same as the previous generation.
The new feature "Double Tap" enables to Four Core Neural engine to process data 2 times compared to past models. Furthermore, the internal storage has been increased to 64GB. Hence, you can use high-range applications as well.
Structure:
The Apple Watch Series 9 side contains a digital crown for  Scrolling and Navigation. However, it has a side button as well. It helps to manage brightness, frequently used apps, emergency services, and many more.
Furthermore, the digital crown has built-in electrodes that work with sensors. Eventually, it will help you read ECG and provide data for ECG apps to help you evaluate your health status. Therefore, it is also helpful in medicine and considering the latest technology innovations in the health sector.
Display specs:
Apple Watch Series 9 Display has Always-on mode as it has a Retina LTPO OLED display. However, these long, fancy names refer to a high-resolution display mode. This mode can maintain the refresh rate and charge the device while it is unused. The contour watch wraps numbers around the display edge to create an illusion. However, it will hide when you see pictures with a background other than black.
Furthermore, the brighter display reaches 2000 NIts during sunlight, double that of the previous generation. Hence, it gives a prominent and satisfying outdoor display regardless of how bright the environment you are in. Even the brightness can go down to 1 NIT as well. Eventually, it will be beneficial in dark environments like movie theaters or sleeping. Hence, it falls under the fantastic Wearable Apple Products.
Battery: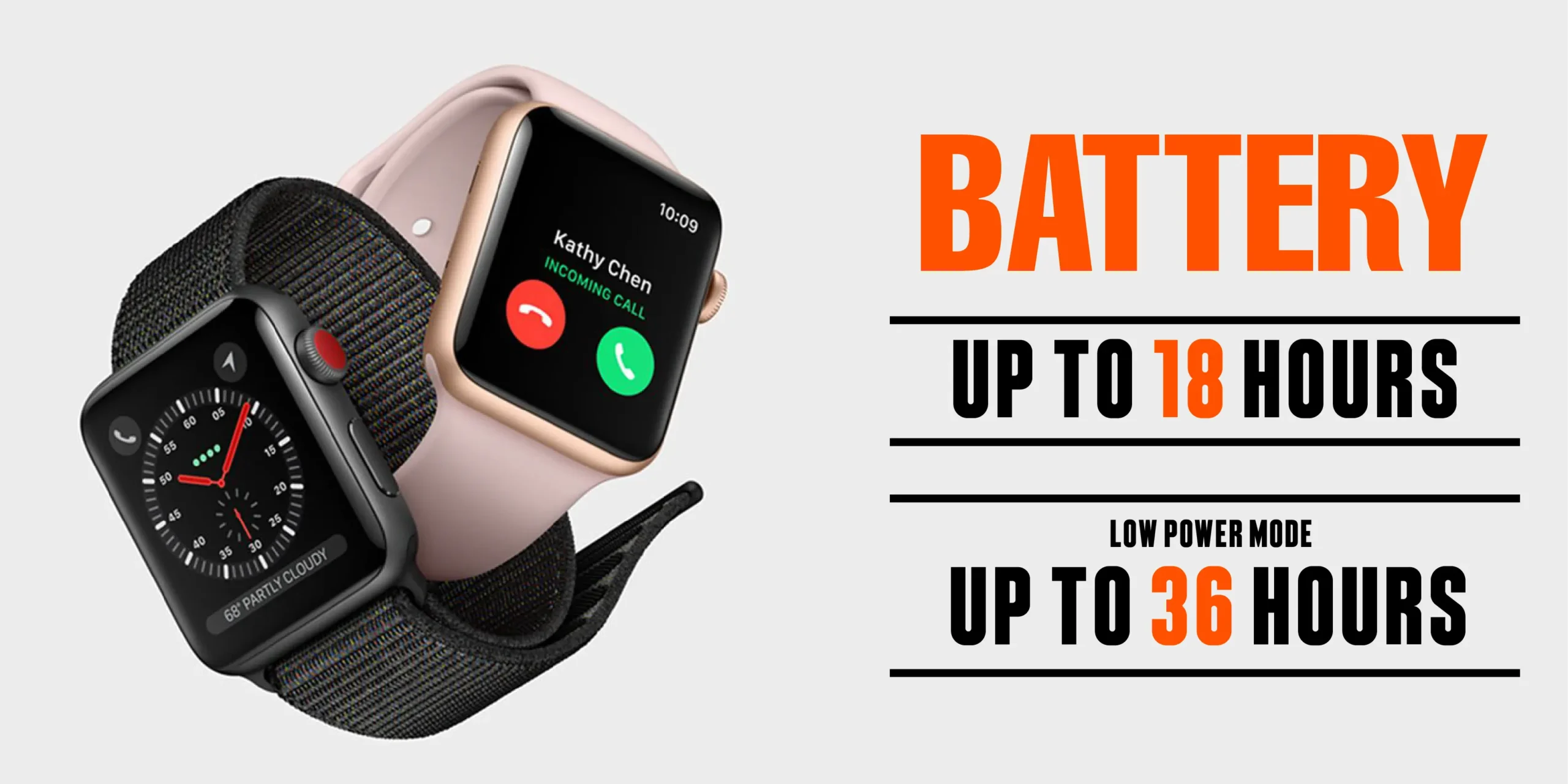 Apple markets its Watch Series 9 as "a day" 18-hour battery life in real-time. Also, it can be increased up to 36 hours if used in low Power mode. However, Low Power mode disables the Always-on Display and limits cellular connections and wifi.
Design:
The appearance is identical to the last three Apply SmartWatches. However, the sensor is the same as the Apple Smart Watch series 8, but the CPU has been upgraded. At the same time, The round curved edge is identical to the Apple SmartWatch Series 7.
Furthermore, it has soft, rounded edges around the display. The weight is 32 grams to 51.5 grams based on material and Apple watch size. However, the size varies according to the user's preferences; for example, 41mm and 45mm are available. Meanwhile, stainless steel Apple watches weigh more compared to others. 
Meanwhile, the Pink color is surprising. Apple Watch Series 9 is available in "stainless steel" and "aluminum" materials. However, the display in Stainless steel is sapphire, and aluminum has lon-X.
Following are the colors available in Stainless and Lon-X.
| | |
| --- | --- |
| Stainless  | Aluminum  |
| | |
| | |
| | |
| | |
| | |
Processor:
The Apple Watch has a SIP called "System in Package," all processors and sensor controls are arranged in one unit system. Surprisingly, the Apple Watch S9 SIP is not ignorable because it upgraded its processor in this version after the Apple Watch Series 6. Also, this processor is the fastest processor among all previous generations.  
Bluetooth 5.3 offers accessible communication with iPhone users. It works smoothly with Bluetooth LE products as well. 
In short, The Dual Core CPU has 60% more transistors, and the GPU is 30% faster than previous models. However, an increment in the processor and the provision of a brighter display don't affect the battery life of the Apple Smart Watch S9.
Durability:
Surprisingly, the Apple Watch Series 9 has IP6X dust resistance approval too. Therefore, users can wear it fearlessly in harsh environments like deserts, beaches, etc. Since it offers WR50 Water Resistance, it can bear 50 meters deep. Undoubtedly, you can wear it during swimming and shallow water activities. However, you cannot wear it during scuba diving, showering, etc. 
But sadly, the speaker won't work underwater. Hence, you have to clean it once you leave the Water. In short, it cannot resist deep and higher-velocity Water.
Disclaimer
: Apple Watch Warranty will not cover any water damage.
Price:
The Apple Smart Watch S9 is $399, the same as the Apple Premium SmartWatches. However, at this price, you can avail of 41mm size and only aluminum models. Meanwhile, for larger sizes and stainless steel models, you have to pay a higher price. 
Double Tap
 Double Tap is a unique feature in Apple Watches. Since it allows its users to access specific functions or actions quickly, it makes the overall functionality easy. Hence, Wearable Technology enhances durability, convenience, and connectivity in human life.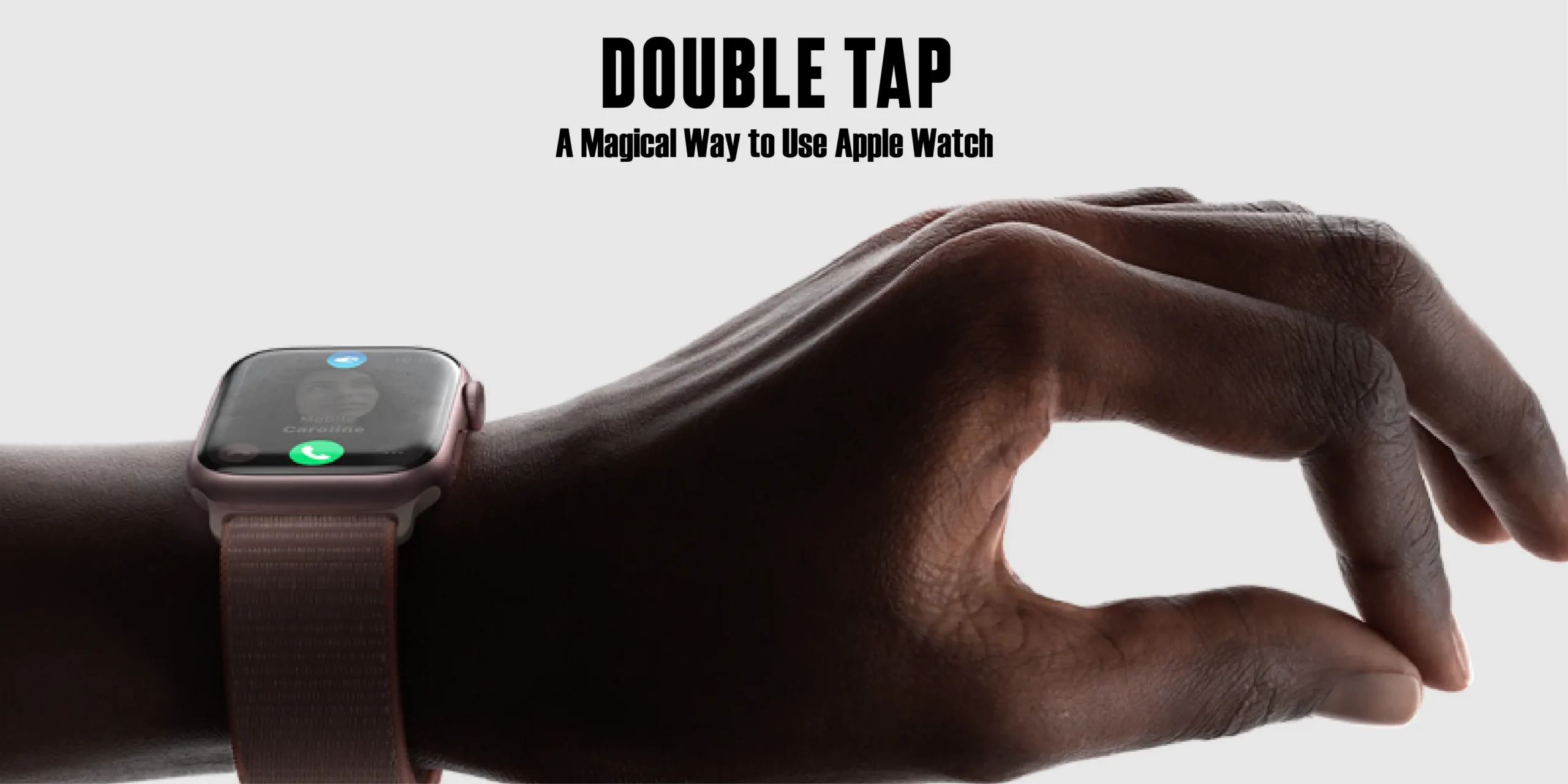 The "Double Tap" feature allows you to perform a one-handed operation. Also, this feature makes the Apple Watch S9 different from other Priovus models. In the application process of Double tap, the user is supposed to tap their finger and thumb and enjoy the magic. Like, the Apple Watch S9 feels the gesture and works according to the algorithm that has been designed. Wherever the Program is active on the display, it will work according to flow. For example, accepting calls, Playing or Pausing music, snoozing alarm, etc.
How do you activate Double Tap in
Apple Watch s9?
To activate the double-tap feature, you have to follow the following steps.
On the watch, go to the home screen.

Then tap on settings applications.

Scroll down until you find the option "Accessibility."

Here, you will find "physical and Motor" options. Tap on "touch."

Now, you have to find "Double Tap" tap on that option.

Toggle the switch to enable this feature.

Congratulations, you have activated teh "double tap".
Disclaimer
: Note that the availability of this feature depends primarily on the model you are operating. 
FAQs
What are the Specific Features of the Apple Watch Series 9?
Apple Watch Series 9 contains a faster, brighter display, S9 chip, and a unique "Double Tap" Gesture.
How Long does Apple Series 9 perform without charging?
Approximately 18 hours while on low power mode, it can perform 36 hours.
What is meant by Double tap in Apple Watch Series 9?
It's a prominent feature in the Apple Smart Watch Series 9 that allows users to access features or perform any action by tapping twice on the display.
Can anyone customize the functions of "Double Tap"?
Yes, undoubtedly, you can choose this option. 
Does the Apple Watch Series 9 have a Waterproof?
Apple Smart Watch Series 9 is rated as WR50. Hence, it is considered Water resistant but not waterproof. Therefore, You can wear it during Rain, hand wash, etc.
Can the Apple Watch S9 measure Blood Pressure?
According to Bronstein, The Apple Watch S9 is not designed and equipped to measure blood pressure. 
Final Verdict:
Apple SmartWatch series 9 presents a mature Wearable Apple Product. Also, the display ability to showcase according to the environment, fastest processor, sip, and Double Tap all these features make the Apple SmartWatch Series 9 a worthy investment. The Siri has been improved in this version compared to the previous version. 
Despite the actual functionality of the Apple Watch Series 9, it's exciting to witness Apple's carbon-neutral mission.