Dell Alienware M15 R7 Specs and Performance Analysis
The Dell Alienware M15 R7 is a premium top-end gaming laptop with a 12th-generation upgraded processor, while the R6 has 11 generations. Alienware is Dell's prominent gaming brand, with a fantastic refresh frame rate and visual capability. 
Although it's counted as a premium gaming laptop device, it's also not a perfect gaming laptop. You can enjoy games and 3D visuals, but some areas require upgradation and improvement. In this article, you will explore the technical analysis of Dell Alienware M15 R7.
Specs of Dell XPS 15

Operating System

Windows 11 Home, 64-bit

Windows 11 Pro, 64-bit

Brand`

Alienware

Screen

15.6 Inches

Display

165Hz screen

Resolution

2560 x 1440: QHD

Weight

2.69 kg

Battery

240-watt 

Memory

16GB DDR4-4800 

Storage Capacity

512GB PCIe NVMe M.2 SSD

Processor 

12th Generation Intel® Core™ i7-12700H (24 MB Cache, 14 Core, up to 4.70 GHz)

Processor Speed

up to 4.7 GHz

Graphic Processor

8GB NVIDIA GeForce RTX 3070Ti GDDR6

Camera

720p at 30 fps HD RGB-IR camera

Numeric Keys

No

Color

Dark Side of the Moon

Key Travel Distance

1.9mm

Dimension

14.02 x 10.73 x 0.94 inches 

Warranty 

1-year Basic Warranty

International / Manufacturer

Price

$1,386.98
Performance Analysis of Dell Alienware M15 R7 :
Processor:
The Dell Alienware M15 R7 has upgraded CPU and GPU to make this device efficient. Whether you are playing regular or 3D games, you will never find any frame down during the game. You can also enjoy speedy visuals at frame rates between 170 and 190fps in the high graphics process. Thus, it's a premium Gaming laptop. You can also compare it with the Asus Rog series, primarily designed for games.
The battery needs to be better. It will only last for 5 hours and 32 minutes during regular work. But it's normal because this is the standard battery backup time due to advanced GPU and CPU. Thus, the batter is unsuitable for long gaming sessions, but you can enjoy your movie or season in one go. Meanwhile, for Dell command Updates, you can also prefer their software.
Display: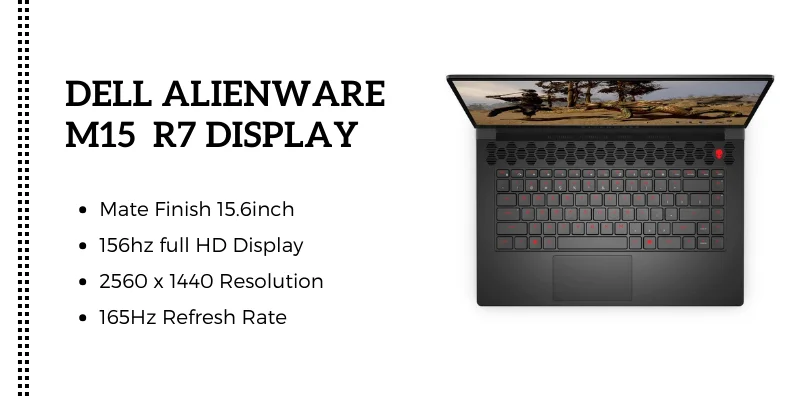 The Dell Alienware M15 R7 has a mate finish 15.6inch, 156hz full HD display. Also, it is auto HDR enabled. Hence, it produces more vivid and prominent shadows during heavy games., This is the most demanding feature for any gamer.
Surprisingly, You will not find any delay or frame drop during serious and speedy scenes, even in the highest setting mode, which is the most remarkable advantage for any gamer. It provides 2560 x 1440 resolution.
Surprisingly, you can play the 3D game at a 165Hz refresh rate screen without any visual missing and with excellent graphics. Despite these fantastic visuals and numerous LED lights, the screen needs more improvement for better results.
Meanwhile, if you want more battery backup and extra features, look at the ASUS ROG Zephyrus M16.
Keyboard: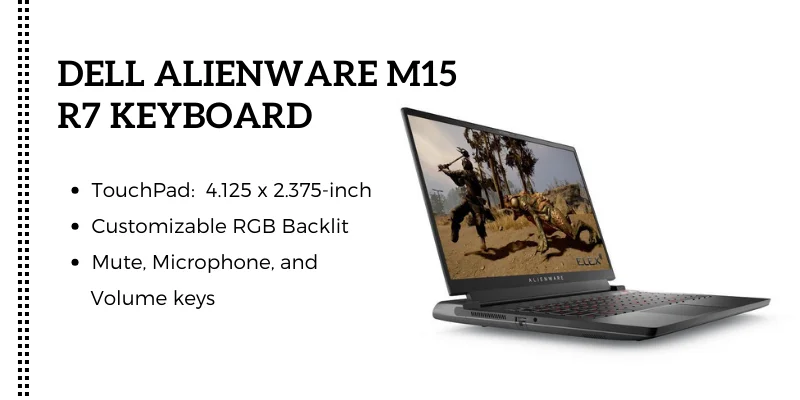 The Dell Alienware M15 R7 keyboard eliminates the Numeric pad and contains a relatively traditional look. Whereas the TouchPad includes a 4.125 x 2.375-inch area.
The function keys are placed on top and half in height compared to the other keys. While the mute, microphone, and volume keys are placed on the right side of the keyboard.
The keys have been placed in an ideal location. Even you can write 96.5 words in one minute on average.
Surprisingly, you can customize the RGB Backlit light all over the keyboard through Alienware Command Center software as per your preferences. However, per key upgrade requires $50 for access from the Dell website. 
Webcam:
Like the Dell XPS 15, the Dell Alienware M15 R7 webcam provides the same results. You need to connect an external camera for better results. 
Meanwhile, the colors would be okay, but capture could have been more justifiable overall. And low light capture mode is also lacking, compromising the colors of the face and details.
Cooling Fan:
The Dell Alienware M15 R7 cooling fan contains advanced features to keep the laptop cool during high-range games. 
Despite having advanced cooling fans, it's a bit noisy during heavy games. This noise creates an unpleasant environment and makes us uncomfortable. You can find the fantastic cooling system in ASUS ROG Strix Scar 18 with comfortable fans.
Design: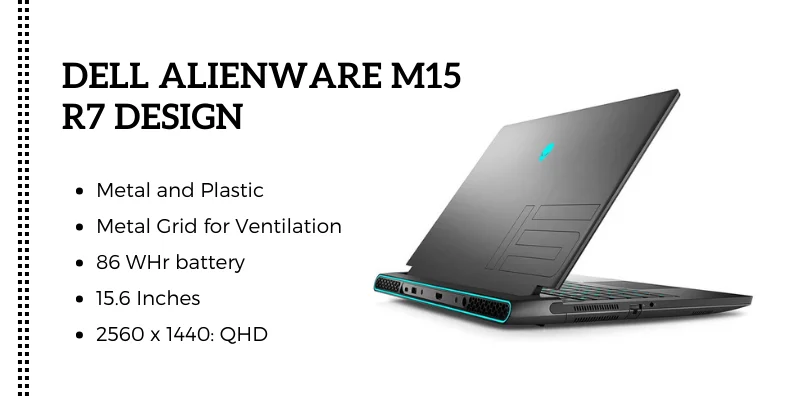 The Dell Alienware M15 R7 design combines metal and plastic. It would look more elegant if the plastic element changed into metal material. However, its overall design structure technique is impressive. The Asus ROG GL75 also has plastic and aluminum material.
On the back side, it has a Metall grid for ventilation. Thus, you will not feel the heat through the right and left sides of the laptop. You can use an external mouse and play games without irritating heating waves.
Throughout the laptop, the Alian element is used heavily. Thus, the power button design is so impressive. You will see an Alien button on the top side of the keyboard. 
The Dell R7 is slightly heavier than other laptops because of its 86 WHr battery.
Windows 11 Features:
Following are the prominent and essential features available in Windows 11
Universal Search: You will see the search option on the taskbar. You have to type anything you want to search, and you will see the top results in a few seconds. You can customize the results according to your preferences as well. 
Customize the setup: You can customize your desktop color, theme, background, and text without hustle. 
Organized Desktop: Now, you can manage your work life via an organized desktop. You can build a dedicated desktop to help you at work and save time finding required apps and software. 
Safety: Surprisingly, Windows 11 runs only authentic and reliable apps and software. It won't allow those apps that will be the reason for compromising your data. 
Pros and Cons of Dell Alienware M15 R7:
| | |
| --- | --- |
| Pros | Cons |
| Upgraded advanced and demanding processor | Relatively heavy weight |
| Smooth gaming performance without frame-down  | 720 Camera, which is not considered a good camera result |
FAQ:
What are the Dell Alienware M15 R7 specs?
The laptop contains 12th Generation Intel® Core™ i7, 8GB NVIDIA GeForce RTX 3070Ti GDDR6, and 16GB of fast DDR5 RAM.
How long
Dell Alienware M15 R7 Battery will remain alive?
It has an average battery life. For heavy games, you have to connect with power after 45 minutes.
What is the screen size of the Dell Alienware M15 R7?
The Dell Alienware M15 R7 has a 15.6-inch display with a vibrant, colorful screen.
Final Verdict:
The Dell Alienware M15 R7 is a four-figure investment as a gaming laptop. You can easily use it at your workplace to manage your life and enjoy a fantastic gaming experience. Despite the battery, this device provides balanced performance. Meanwhile, You have to bear the noise of fans during heavy games, while the sound and visuals are unignorable. In short, it's a suitable gaming laptop device, but there is room for improvement.