WHAT ARE THE MAIN FACTORS FOR CYBERSECURITY SOLUTIONS?
Cyber security solutions are technological tools and services that help protect organizations against cyber attacks, resulting in application downtime, theft of sensitive data, damage to reputation, compliance fines, and other adverse consequences.
Cybersecurity is protecting your access from outsiders to not interfere in your account or anything you manage financially. To protect your statement or manage these things from this, you should know these points :
Protect by password

 

Limit the personal information you share online 
You should know about threats that can damage your system.
Just not in systematic life but in your everyday life too.
There are some fundamental cyber security threats are :
Ransomware 

Phishing attacks 

Cloud vulnerabilities 
As in the framework :
A cybersecurity framework is a system of standards, guidelines, and best practices to manage risks in the digital world. It bounds your data to limit its access.
It is beneficial as it gives you guidelines, protecting your account and managing risk to reduce an organization's exposure to weaknesses and vulnerabilities that hackers and other cyber criminals may exploit.
The framework blueprint is for managing risks and reducing helplessness.
Critical framework for cybersecurity :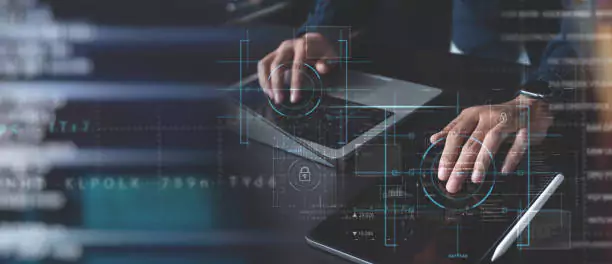 There are many well-known and comprehensive frameworks for cybersecurity are:
Nist cybersecurity framework 

HIPAA 

Cobit 

Mitreattack 
These frameworks are to improvise, identify, detect, respond, and recover.
HIPAA :
Health Insurance and Portability and Accountability Act (HIPAA) is a cybersecurity framework to control and manage to secure your electronic health information. It can add to your knowledge to compliance against it, such as training employees and operating companies in the sector also couldn't assessments to identify emerging risk.
Nist :
The Nist is to manage and consists of standards and best practices that help organizations improve cybersecurity risk management. NIST CSF is to help businesses of all sizes better understand, manage, and reduce their cyber security risk and protect their networks.
COBIT :
Cobit (Control Objectives for Information and Related Technologies) was created by ISACA to protect end-to-end encrypted information and to moralize the gap between technical issues, business risk, and control requirements. 
MITREATTACK:
The MITRE ATTACK is to recognize hackers, attackers, and red teams to find the tactics and to identify the attack attribution. 
Conclusion : 
Cybersecurity solutions protect your access to your account, making your account end-to-end encrypted or outlined by solid passwords. It's a framework where your data recovered by security protects it from hackers, attackers, and those who ensure your accessibility is all cyber security.