What are the latest Features of Ray-Ban Meta Smart Glasses?
Meta and EssilorLuxottica are about to launch the New Ray-Ban Meta Smart Glasses. Surprisingly, Ray-Ban has new features and capabilities you have never seen before. Now, you can enjoy a High-resolution camera facility, microphone, an inbuilt speaker, and 36 Hours long battery life simultaneously. However, in previous generations, these features still needed to be added. Hence, their availability makes them stand out among all wearable devices.
The starting price of these smart glasses is $299. Meanwhile, Online purchasing and retail stores will start on October 17, 2023. Ray-Ban Meta Smart Glasses will be available in 15 Countries, Such as Canada, the US, Australia, and Europe. However, you can prefer pre-orders of these smart glasses through Meta.com and ray-ban.com.

Ray-Ban Stories: the new way to capture, share & listen by Ray-Ban Films
Specifications of Ray-Ban Meta Smart Glasses:
| | |
| --- | --- |
| Price | 299 USD |
| Weight | 50gm |
| Battery Capacity | 36 Hours |
| Launch Date | October 17, 2023 |
| Models | 3 |
| Water resistance  | IPX4 |
| Built-in SPeaker | 50% Louder |
| Mics | 5 |
| Camera | 12MP |
| Storage | 32GB |
| Wireless | Bluetooth 5.3, Wi-Fi6 |
| Colors | 21 |
Comparative Analysis of  Ray-Ban Meta and Ray-Ban Stories: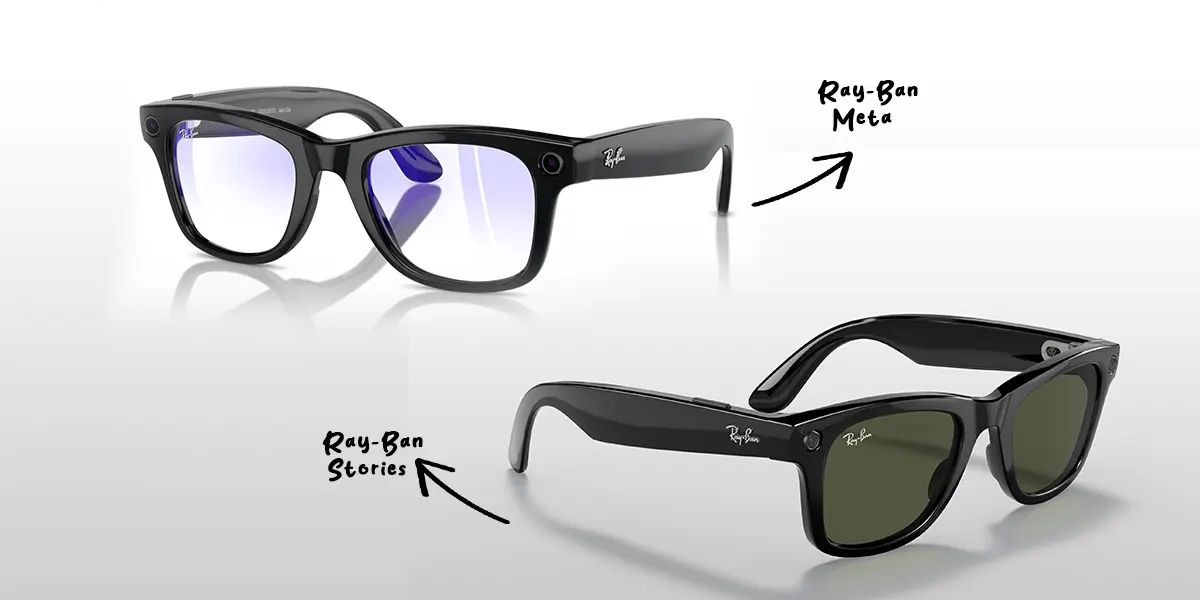 | | | |
| --- | --- | --- |
| | Ray-Ban Meta | Ray-Ban Stories  |
| Camera | 12MP | 5MP |
| MicroPhones | 5 | 3 |
| Storage | 32GB | 4GB |
| Connection | WiFi6 | WiFi 802.11ac |
| Water Resistance | IPX4 | – |
There is a considerable improvement in the quality of cameras, audio, and lenses in Ray-Ban Meta Smart Glasses.

Ray-Ban Stories

contains 5Mp, while

Ray-Ban Meta

has a

12Mp

camera.

Lighter in weight as compared to past generations. Meanwhile,

Ray-Ban stories

' overall look could have been more appealing, but

Ray-Ban Meta

has a stylish and unique appearance.

Surprisingly, you can Engage with Meta through your Voice. Moreover, the voice command feature is way better than

Ray-Ban Stories

. ARay-Ban Meta Smart Glasses Unique Feature lets you easily share your photos with friends via voice command.

Ray-Ban Meta has 32GB storage, eight times greater than Ray-Ban Stories. Meanwhile, this space can store 500 pictures and 100 30-second videos. 
Appearance:
Overall Looks and Colors
Different Classic Colors, such as Matte Black and Shiny Black
Creative Transparent frame colors, for example, Jeans, Rebel Black, and Caramel
More than 150 different custom frame
Ray-Ban Meta Smart Glasses come with a Sleek and Stylish design. The overall body is Slim down. Hence, it creates better looks on the face. Meanwhile, the look is almost the same as traditional Ray-Ban Eyewars. Also, it has a Brand-New Headliner style in both Shiny Black and Matte Black. In addition, these Glasses are relatively light as it's only 50gm. Hence, its overall appearance is just like smart tech.
Moreover, these glasses have prescription lenses as well. Also, it comes with multiple buttons. Eventually, the user can control according to the requirement. In short, Ray-Ban Smart glasses are an excellent combination of style, fashion, and advanced Wearable Technology. 
Water Resistance: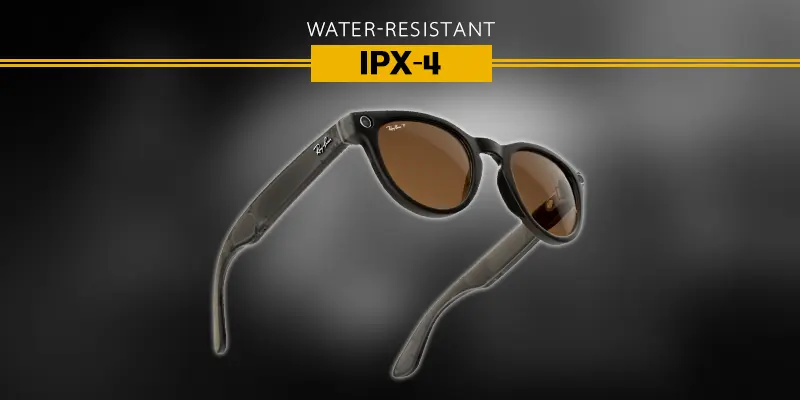 The water-resistant features are also enabled in Ray-Ban Meta Smart Glasses, as is IPX-4 rated. Eventually, you must clean and dry the glasses as soon as possible. However, it is not capable of deep water exposure and other liquids. Hence, you must ensure the charging area remains clean and dry.
In short, you can wear them in the rain as well.
Battery Life:
Rechargeable for up to 4 hours with a single Charge
75-minute case charge will lead to a full charge.
Significantly, You can charge this device via a hardshell charging case. However, it has a strong battery backup. But its charging backup varies according to the configuration, setting, use, and other factors. However, You can use this device for Four hours without interruption. In addition, through a fully charged case, it stays alive for 32 hours. Meanwhile, you can charge it almost eight times.
Meta AI:
Ray-Ban Meta Smart glasses integrated with Meta Ai. And Along with advanced conversational assistant as well. By Saying, "Hey, Meta," you can communicate with AI. 
The Ray Ban Meta comes with iconic style and cutting-edge technology. Moreover, you can collect information, control features, and much more with just your Voice. 
Disclaimer
: The AI feature will only be available in the US in beta launch.
Speakers
Prominent Features of Ray-Ban Speakers
5 Array support Microphones.
Record the audio according to the direction (left, right, front, or any other side).
The Ray-Ban Smart Glasses have an inbuilt speaker feature as well. It entertains you by playing your favorite podcasts, music, books, and audio. You can enjoy all these features and keep your phone in your pocket. 
Now, it comes with a higher maximum volume and improved directional audio. Eventually, these unique elements will reduce the noise during calls and music. Sadly, it's not available in Ray-Ban Stories. But now it has been sorted in Ray-Ban Meta Smart Glasses.  
Surprisingly, You can record videos with five Array support microphones. By this, you can record the sound same as you experienced at that moment. 
Camera:
Prominent Features of Ray-Ban Camera
1080p Video up to 60 Seconds.
Even Capture through your preferred angle.
Share pictures with your friends as well.
Surprisingly, you can store 500 photos.
Also, it can keep Almost 100 30-second-based videos stored as well.
The New Ray-Ban Smart Glasses enabled a 12 MP camera instead of the five as the previous generation. Also, it gives better results as compared to stories. This ultra-wide camera improves the overall quality with 1080p videos up to 60 seconds. Meanwhile, it allows you to capture your preferred pose without any hesitation. It will enable you to Click your favorite moments and live in the moment.
Furthermore, You can share pictures with your friends at the same time. All you have to do is give a voice command to your glasses: "Send a photo."
Meanwhile, You can record or pause the Video via buttons as well. The same goes for pictures, too.
Privacy Concern:
White Noticeable LED Light gives an alarm whether the camera is active or not.
Importantly, these advanced wearables Ray-Ban Smart Glasses also ensure people's privacy. Since it has a white LED indicator with a noticeable size, ultimately, it will alarm the people that you are recording the Video. However, the wight light will barely be visible to people during sunlight. Hence, the manufacturing process needs to be improved.
Ray-Ban Meta Smart Glasses and other Smart Glasses:
In terms of functions, you can compare it with available wearable devices. For Example, Google Glass and Microsoft products ultimately were launched in today's era. Hence, it has more user-friendly features and interfaces. Thus, it makes many complicated things much more accessible than these devices.
What are the Limitations of New Ray-Ban Meta Smart Glasses?
Since Meta Ray-Ban is relatively new in the market, it still needs to be fully explored. However, there are still some potential limitations in this device as well. The following are the prominent limitations. 
Medical Limitation:
Undoubtedly, this device is only for some because some people may still feel the experience uncomfortable or difficult—specifically, those diagnosed with any vision issue or eye-related medical problem. 
Environment: 
According to features and functions, it is one of the best wearable technology like Smart Watches, Smart Rings, etc. However, there is still a need to address some environmental-related limitations. Such as it can perform efficiently in specific environments. For Example, this device cannot function fully in harsh weather conditions. 
Cost:
Another limitation is its cost. According to Meta, the price is USD 299. However, it would be higher if you prefer transition lenses. Currently, there are many smart wearable glasses available at a lesser cost. Hence, it might not create a market in a limited budget demographic. 
Final Verdict:
Ray-Ban Smart Glasses are innovative EyeWear Wearable AI-enabled product. It delivers an impressive AR experience. It comes with three gorgeous models and a variety of colors. Although it's a user-friendly device, it also has some medical and environmental restrictions. Since Ray-Ban Meta Smart Glasses are AI-integrated, without any doubt, it has a successful future in the market. Later on, It will evolve with more advanced AI-based features that help to grab more of the market. In short, It can unlock a whole new game of cutting-edge wearables.